Summer is here and it's time to celebrate! With barbecues, baseball, and balmy weather, what's not to love? But if it's been awhile since you've had a chance to entertain friends, it may be time for a little seasonal sprucing, as we like to call it. Here are a few tips on making your space the perfect hang out spot this summer.
1.Accessorize with throw pillows, indoors our out
Adding a few new pillows in various sizes and colors can transform a room from bland to brilliant. Check out HomeGoods, Target, or even local yard sales for unique finds that will freshen any space.
2. Pump up the jams with a wireless bluetooth speaker
Music is an essential piece to a great party, and with new models on the market offering portability, waterproofing, and bluetooth hookup, it's easier than ever to have the music you want without hassle and for a reasonable price. Check out Amazon.com for the latest trends. Our favorite is the Cambridge Soundworks OontZ Angle 3.
3. It's all in the lights
String lights outdoors on the patio or near seating areas to create ambiance and ensure the fun won't stop when the sun sets. Relatively inexpensive and easy to place and take down, we love the look and simplicity of cafe lighting or assorted lanterns to create a welcoming space.
4. A Fresh coat of paint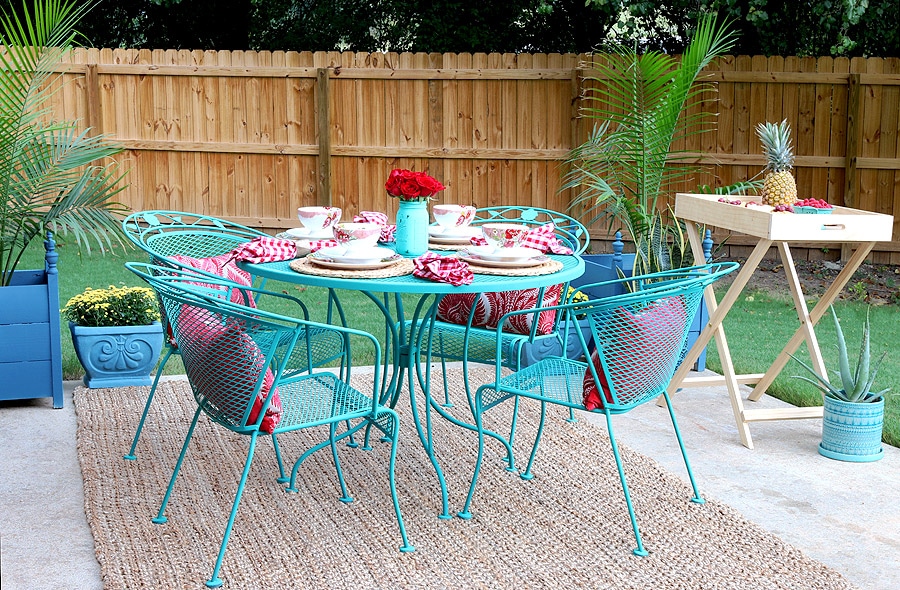 Of course – this is an all-time homemaker's favorite, but we had to put it on the list. Nothing is as striking or satisfying as taking a tired old furniture piece or set and jazzing it up with a punchy coat of spray paint. We love the playful blue transformation on the patio set above, paired with contrasting pillows. (There's those pillows again. See? It's really magic). We recommend Krylon brand for a long-lasting finish and nozzles that are less prone to clogging.
5. Add color and texture with a few potted plants
Whether you're entertaining in the kitchen, living room, or outdoors, introducing a few plants to the mix is an excellent design move that adds life (literally.) to a space as well as completing a look. Mix it up with colorful pots and assorted flowers that agree well with their environment. Consult your local plant shop or garden center for tips on which varieties are best for your conditions and knock yourself out!
While Summer holidays are a time of carefree fun and all around fun-having, remember to drink responsibly and wear sunscreen. Those UVs can be a real bummer! Happy Summer!